It's OK to not feel completely like yourself when you're navigating the effects of MG. Here are some tips that may help combat the ups and downs of self-esteem.
When living with an autoimmune disease such as myasthenia gravis (MG), you may feel your mood and self-esteem change as symptoms and their severity change. Part of these emotions may be related to the unknown, such as not being able to predict how your mind and body are going to react to symptoms, treatments and lifestyle changes. Read on for some tips from others living with MG that may help you address these emotions and the ups and downs of self-esteem.
Patients I see who have autoimmune diseases often feel shaken by the fact that they think their body has failed them in some way.
Often times, life changes that may accompany MG can impact a person's self-esteem and body image, said Kathleen, a Licensed Professional Clinical Counselor.
As someone who lives with ocular MG and also provides therapy to those with autoimmune disorders, Kathleen is familiar with the feelings of anger, isolation, powerlessness and betrayal that can result from a diagnosis. "Patients I see who have autoimmune diseases often feel shaken by the fact that they think their body has failed them in some way, and on some level, they feel that they may have done something wrong or that they've lost control," she said.
Self-esteem and MG
Muscle weakness, vision disruptions and fatigue are some of the more common MG symptoms that may take a toll on a person's self-esteem.1 Alicia,* a singer-songwriter in New York who is living with generalized MG (gMG), feels that her self-esteem and body image have been impacted by the various changes myasthenia gravis brought to her life.
"In 2018, when I first started noticing symptoms, I had a drooping eyelid. It didn't bother me so much physically that I had some double vision; I was mostly concerned with how my eye looked.1 I was so self-conscious about pictures or being around others."
Alicia explained that her frustration stems from the way she feels people perceive her. "The reality of it is that I am different than I used to be, and I'm still getting used to that."
Kathleen also feels like she's struggling with changes to her appearance brought on by ocular MG. "I have a very hard time seeing my image on a screen because my left eye is weak. As it becomes more pronounced by fatigue, it's very triggering for me to see in pictures or video calls," she said. "But I try not to dwell on what it looks like."
And it's not just appearance changes that can be difficult to adjust to. Alicia has added functional accessories around her home to help her when she's feeling fatigued.
"I'm adjusting to seeing things around my house now that weren't there before I started living with MG," Alicia shared. "I have a stool in my kitchen so I can sit if I need to do dishes. It took time to feel comfortable with people coming in my home and seeing stuff like that. I have to have the stool and a shower chair, and that's my reality now."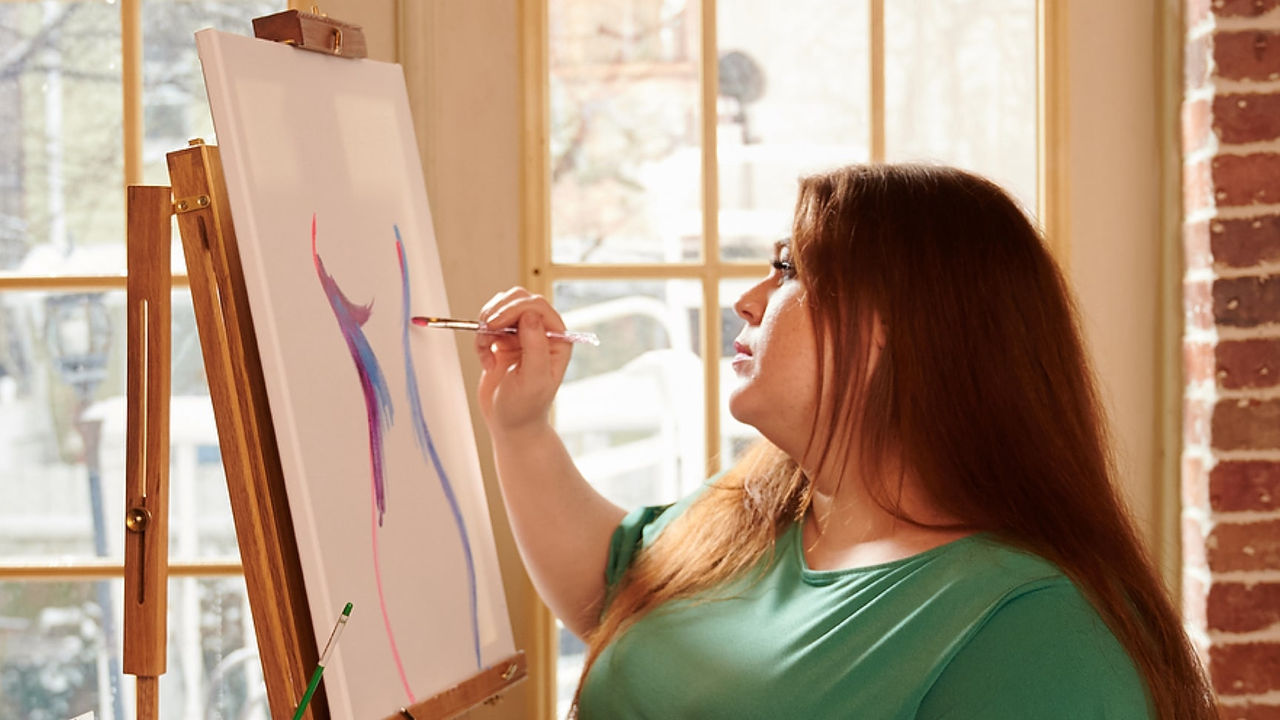 Boost your spirits
"Sometimes I look at a picture of myself and I'm like, who is that?" said Alicia. "If I don't feel like I look like me, that's when I'm most uncomfortable, so I've found ways to try to help me feel like myself."
One of those ways, Alicia shared, is to practice one of her hobbies. If she has the energy, Alicia likes to do something creative on her "bad" mental health days, like write, make music or paint. "Using creativity and being artistic is when I feel most like me, so trying to incorporate that as much as I can is helpful."
To boost her spirits, Alicia also takes to social media to document good and bad days. "Social media has given me a chance to have some fun on video and also get to share out my experiences. Making videos helps me feel good," she shared.
She also likes to try to find foods that she associates with people she loves and positive moments in her life. "It brings me back to that happy mental state when I can make a dish that I associate with a happy memory."
Committing to doing things that make you feel good may help minimize feelings of sadness or dissatisfaction.2 So, whether that's painting, making videos, cooking foods that you love or something else, try to incorporate activities that may boost your mood.
Build a strong support system
In addition to trying to boost your self-esteem on your own, it may also be helpful to build a support system that you can count on.
Many people with MG may feel that their loved ones don't understand what MG is and how it affects them, so it's important to try to be honest about feelings, capabilities and struggles.3 Check out this discussion guide for tips on talking to family and friends about MG.
To help both supporters and people living with MG combat anxiousness surrounding life changes, open communication may be helpful. "My favorite phrase is, how can I help?" said Kathleen. "I suggest that caregivers let their loved one living with MG have needs and make sure they're not afraid to voice those needs." Kathleen provided an example of when she goes to restaurants with a group. "My friends know now that when we go out, I choose my chair first because I want my back to the window so I have the least amount of visual stimulation. Everyone waits, and that's OK."
As supporters adjust to their loved one's lifestyle with myasthenia gravis, they may be able to provide more helpful suggestions and positive reinforcement as they too learn more about MG symptoms. "My good friend suggested I film a video of myself when I was having a good day so that I would have something to look back on during a bad day," said Alicia. "I filmed that video and sent it to him, and, not long after, I had a day where I was feeling really down. He sent my video back to me as a reminder that brighter days are coming again."
The circumstances aren't changing right now, but I want to make the best of what I have.
Be honest with yourself and others
Navigating the ups and downs of self-esteem and practicing self-care may not be easy for some people living with MG, but Alicia shared how important it is to find a way to accept your body's changes.
"It's not an easy thing. You don't just snap your fingers and accept it. The circumstances aren't changing right now, but I want to make the best of what I have," she said. This might mean looking at situations through a different angle, "finding little wins and just making what you can an adventure."
When you're honest with your friends and family, they may be able to help find a better perspective when you're struggling to stay positive. "It's OK if I need to use a wheelchair or if I feel tired and need a break when we're together. I had to stop worrying about what my loved ones would say or how they would feel about these limitations," Alicia shared.
"It doesn't work to just tell people struggling with their self-esteem that they look great or that everything will be just fine," said Kathleen. "It's a process."
To find more ways to help practice self-care, download this Self-Care Worksheet, which includes journal prompts, tips for boosting your self-esteem and more.