Watch myasthenia gravis (MG) supporters share their experiences of caring for a loved one with MG.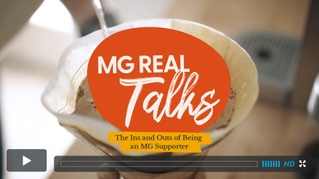 Supporters of people living with MG may feel overwhelmed and unsure where to start when faced with becoming a caregiver. To help them navigate that journey, this roundtable discussion covers tips for supporting loved ones with MG, keeping self-care a priority, effective advocacy and preventing caregiver burnout.
This discussion is part of our MG Real Talks series, featuring MG community members sharing their real experiences—like this conversation on navigating treatment coverage. Our latest video features a variety of MG supporters reflecting on their experiences with several topics, including:
How they learned about MG and what their supporter role would entail
Maintaining awareness of symptom changes in their loved ones
Helping their loved ones set and achieve goals

Balancing caring for themselves with caring for their loved ones
Their biggest challenges from being an MG supporter
Communicating mindfully and empathetically with their loved ones about MG, especially with it being an "invisible condition"
Working with a mentor who can relate to what they're going through
Want more resources for supporting your loved one? Join Go for Greater, a community-wide challenge aimed to help achieve a greater everyday with MG, and start with Goal #1: Greater understanding from loved ones.