Learn how occupational and physical therapists work with patients who live with myasthenia gravis (MG).
Occupational therapy (OT) and physical therapy (PT) can be methods of helping you manage your myasthenia gravis symptoms. OT and PT are two areas in the medical field that are sometimes mistaken for each other. On the surface, this may be because there's some overlap in the services they provide. But taking a closer look at both fields may help to separate them from each other. You may find that working with specialists in one or both fields may be beneficial.
A physical therapist is going to help you walk down the hallway. An occupational therapist is going to help make sure you get dressed.
Defining OT and PT may be a helpful place to start. An occupational therapist typically focuses on improving a patient's ability to perform activities of daily living. A physical therapist typically focuses on improving a patient's ability to perform a movement of the body. Liz Plowman, PT, DPT, OCS, TPS, is a physical therapist and board-certified orthopedic specialist who lives with MG. She uses an analogy that you might find helpful to tell the difference between the two professions. "A physical therapist is going to help you walk down the hallway. An occupational therapist is going to help make sure you get dressed," Liz said.
How physical therapy may be helpful
Liz was a physical therapist in the Navy prior to being diagnosed with myasthenia gravis in 2018. The symptoms that came from her diagnosis meant she could no longer return to the military as planned after giving birth to her child. Despite this setback, she didn't give up her profession. Liz knew there were ways that a physical therapist could help someone living with MG. She began providing physical therapy services via telehealth to clients living with myasthenia gravis, and her business took off. From her own first-hand experience, she was able to pass on some physical therapy–related tips for her patients living with MG.
Plan your most energy-demanding activities when you are feeling your best. For most, that's earlier in the day. If you take medication, plan activities when your medication is at its peak effect.
Sit to perform lengthy activities like washing dishes, folding laundry, or brushing your teeth in an effort to avoid tiring out your legs. By making this adjustment, you may be able to conserve energy for other activities that require standing.
Select some rest-friendly activities. Cue up a good watchlist on your favorite streaming service. Audiobooks are wonderful if you love to read but need to rest your eyes.
If you get referred to a PT for another condition—such as a twisted ankle—it may be helpful to call the clinic beforehand to make sure your physical therapist understands MG and can help you get the most out of your appointment.
Share your goals with your PT and healthcare team so they know how your lifestyle is being impacted and what you're looking forward to. This way, they can aim to prioritize the day-to-day goals that matter most to you.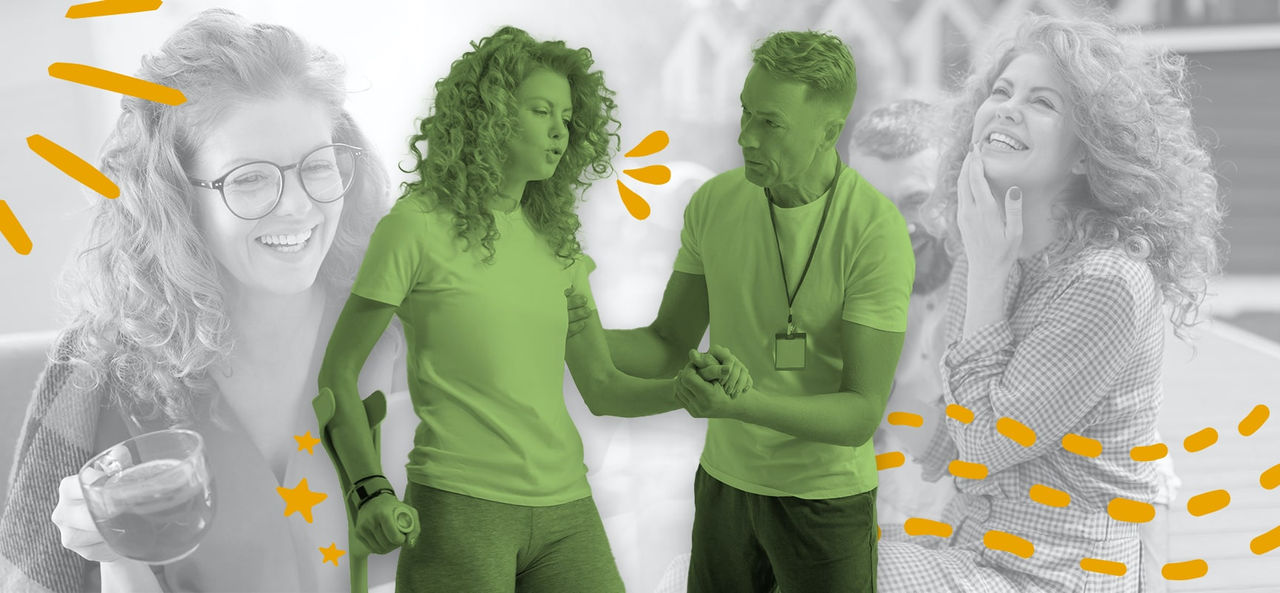 Potential benefits of occupational therapy
Julia Naumes, OTR/L, CHT, OTD, an occupational therapist and certified hand specialist who lives with MG, was already in college and on the road to becoming an OT when she was diagnosed with myasthenia gravis. With the diagnosis, she decided to narrow her professional focus and became a certified hand therapist. As a hand therapist, she can limit her own movement at work and continue to help her clients improve their lives.
Julia encourages people living with MG to explore the potential benefits of OT with their healthcare team. In her experience, collaborating with an OT can lead to an evaluation of the home the person with MG lives in. The OT can work with their patient toward adjusting the living space to better suit their patient's needs. "We try to modify a person's muscles and endurance as much as we can, but we also recognize that some things can't be changed quickly. In those cases, we utilize other interventions to modify the environment," Julia says.
An OT may help you reorganize your home in efforts to make it more accessible to you. They can assess your movement abilities to help decide how you might set up your bathroom or kitchen, for example. Julia also has some tips to think about from the perspective of an OT. These may be helpful for daily activities around the house.
If cooking is fatiguing, buy pre-chopped foods when cooking your favorite recipes, such as pre-chopped butternut squash from the frozen section of your local grocery store. If you want to chop your own foods, you can try using an adaptive device like a tomato slicing helper.
Organize your kitchen so the most commonly used appliances and/or the heaviest appliances are within arm's reach, so you aren't wasting your energy frequently getting those out when cooking.
If opening your medication bottles is difficult, ask your pharmacy to use lids that aren't childproof or use an adaptive device like an automatic pill dispenser. Be sure to keep your medication out of the reach of children, should that apply to your household.
Consider using grab bars near your toilet, as well as an elevated toilet seat.
If getting dressed is a challenge, consider button hooks and/or shoehorns.
Make sure to check with your doctor if you feel an occupational or physical therapy session would be beneficial for you. Your doctor can help ensure that the session aligns with your management plan and goals.