Alexis is a father of three, a husband, an MG advocate and a support group leader who has been living with MG since 1997.
"MG is such a rare disease, and many doctors don't ever get to see a person living with it. So, you have to be that self-advocate. And if you're not able to do it yourself, you need to have somebody with you who will convey that message," said Alexis.
This is something Alexis learned after his ocular MG symptoms progressed to generalized MG symptoms. "When I was first diagnosed, I had ocular MG, and after being two years in remission without having to take any medication, I woke up to new and worsened symptoms," he explained. He described his neck muscles and torso feeling weak and having trouble walking. Alexis was so frustrated and angry that the disease he thought had gone away was actually back, and this time, his symptoms were worse.
Alexis feels that his disease progression could be because he had medication that's not recommended for people living with MG.1 "At the time, I felt a lot of anger, but I wasn't firm with my concerns and allowed myself to have medication that I thought I probably shouldn't have."
Any time I go to a dentist or doctor, I make sure to bring with me a list of medications that my healthcare team has said are not recommended for myasthenic patients.1
Since then, Alexis has created a list of treatment considerations when it comes to managing his MG. "Any time I go to a dentist or doctor, I make sure to bring with me a list of medications that my healthcare team has said are not recommended for myasthenic patients,"1 Alexis explained.
"I think it is so important for people living with MG to make one of these medication lists with their healthcare provider and keep it with them in their vehicle, purse or wallet," said Alexis, so that information can be more clearly conveyed when necessary.
Planning ahead for a myasthenic crisis
Throughout his MG journey, Alexis has learned to adjust. "I've learned what I can do and what I shouldn't do. I also have learned that if I want to do something with my family, sometimes I do need to take a break," he explained.
This is something Alexis experienced last year when he was working on his son's playground equipment at his home. "I worked on it all day," Alexis said. "And it was very hot. Once we finished up with the playground, we came inside, and my MG symptoms started to get worse."
Immediately Alexis started to feel his eyelids droop, double vision came on and his neck muscles were losing strength. "My torso, all of my extremities just felt like they were starting to shut down. I felt like I was starting to choke," he recalled.
In that moment, his daughter, who was sitting nearby, noticed Alexis was struggling and quickly went to get ice packs and a fan. "She held up my head, so I was able to breathe better, and after some time I felt more stable."
By this point, Alexis was able to convey to his wife that he needed his medication. "In a flare-up, slurred speech is one of the issues I face, so I wasn't able to speak or articulate what I needed," he explained. However, Alexis had prepared his family for a crisis situation like this, and his wife knew what medication he needed so she could get it for him and eventually allow his symptoms to subside. If you're experiencing an emergency, call 911.
Alexis calls this experience a lesson, and he knows now that he sometimes needs to rest and "charge his batteries."
"For people living with MG, we know to be aware of how much charge we have left. I start at 100 in the morning, sometimes, and then see how much I use throughout the day. For me, that battery gets consumed very quickly," he shared, adding that those are the types of things his family has learned when it comes to how to interact with and what to expect from him.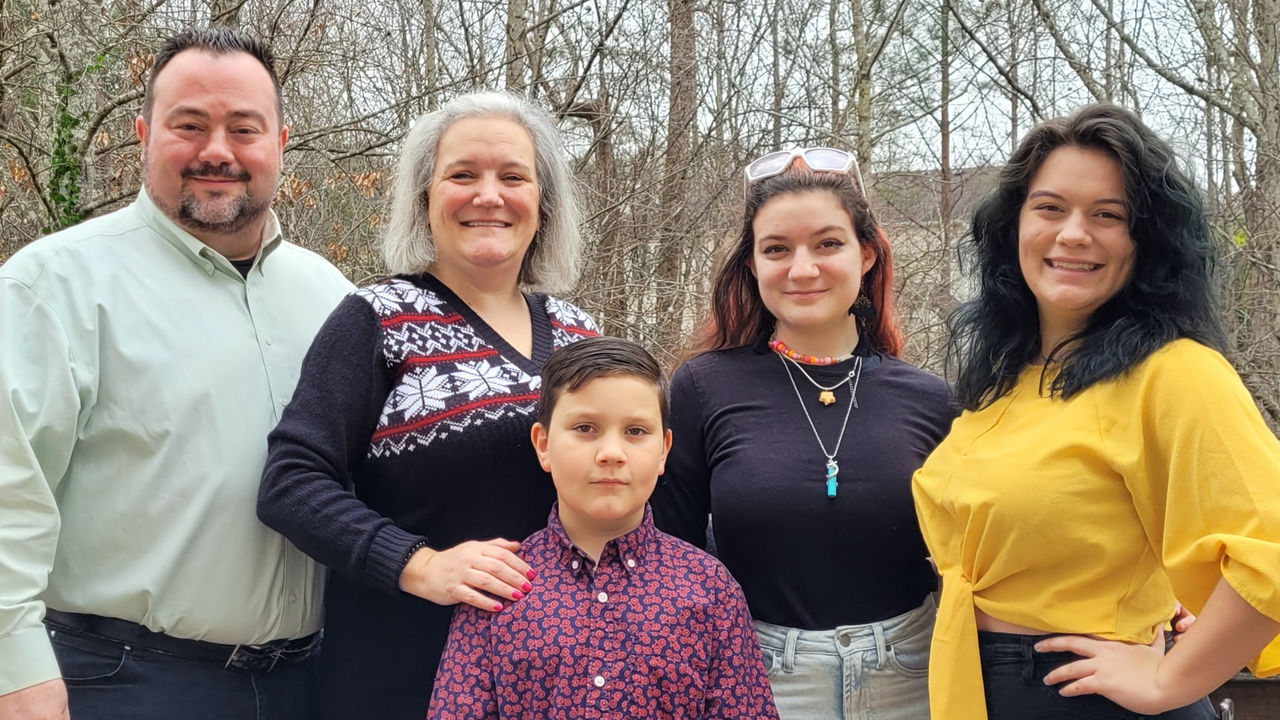 Supporting others through his own experiences
Alexis continues to adjust to his life with MG, and as he finds new methods that help him, he's happy to share those with his support group members while listening to their thoughts and concerns. "I use my experiences to share with others how important it is to be prepared and be a self-advocate when you're living with MG," he said.
"So many times I've met people who have had MG for three, four, five years and they've never met another patient. But now with support groups, it doesn't have to be that way," said Alexis.
For the first 10 years after his diagnosis, Alexis tried to take the time to learn about MG and adjust to his new life. He felt lost not knowing anyone else living with MG or being able to easily access information about the disease. He attended support group meetings as often as he could, but they were only held twice annually at that time and he found it difficult to meet people he could relate to.
"Information was very limited," Alexis explained. "So I, along with a few others, started our own MG support group in Atlanta." Alexis then became very involved in MG-related conferences, webinars and meetings, with the goal of understanding the disease as best he could and, in turn, being able to help others understand it too.
Teaching how to be a self-advocate
And Alexis' impact spans far beyond Atlanta, as he has become an MG advocate who tries his best to help others with their MG whenever possible. "I received a phone call a few years back from a support group leader on the West Coast," Alexis recalled. One of their support group members was on vacation near where Alexis lives, and she was experiencing an MG flare-up but didn't feel she was getting the care she needed. The healthcare team said she was having psychological issues rather than symptoms related to MG.
"Her husband as well as her support group leader reached out to me asking me for advice on what to do because they were having trouble effectively communicating her MG needs," Alexis said. Alexis was able to get in touch with his neurologist, who provided some guidance, and ultimately, she was able to get treatment at a facility she felt had experience in MG.
Being able to provide some support to this woman visiting his hometown and others within the MG community is important to Alexis. His own experiences and his position as a support group leader allow him to share what he's learned about MG management so far, and he's hopeful that telling his story may benefit those who are newly diagnosed.