Dawn was on the other side of the world when MG fatigue hit her for the first time.
She was working her dream job in corporate marketing and recruiting, traveling to her company's 500-plus offices worldwide to help them create marketing plans and events. She was used to frequent globetrotting, but during a mission trip to South Africa, she suddenly found herself lagging behind. "I couldn't keep up," she said. "I thought, okay, something has to be wrong."

But her busy travel schedule meant that she was constantly in different places, seeing different doctors whenever a new symptom arose. Back in her temporary home state, she started experiencing unexplained falls; on a trip to Texas, she experienced double vision—which she eventually got corrective glasses for in Michigan. Because of her frequent travel, there was no one doctor with a cohesive view of all her symptoms put together.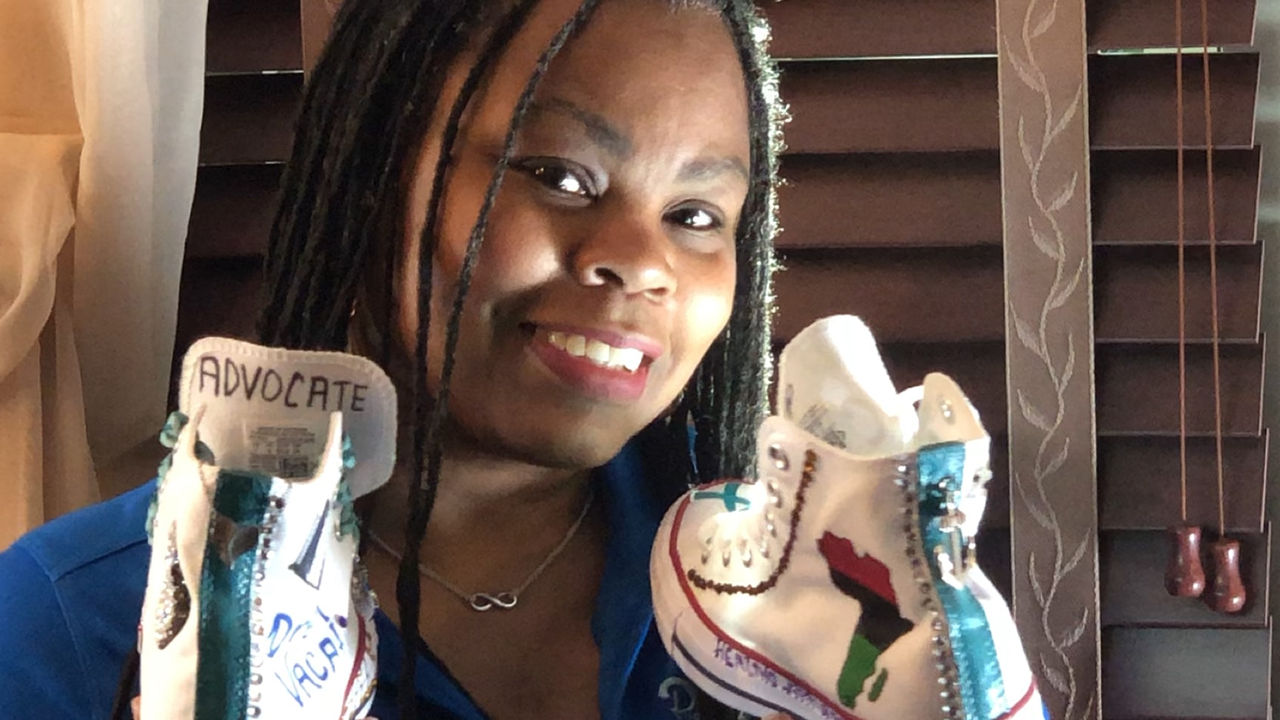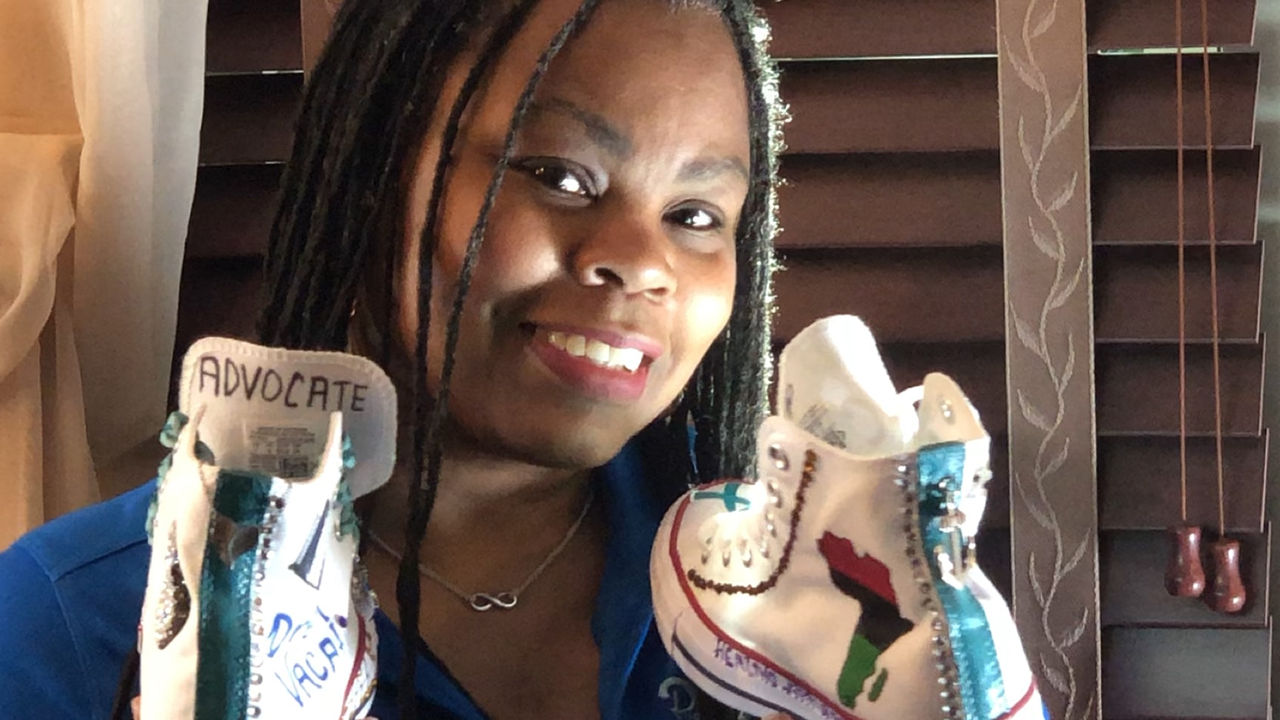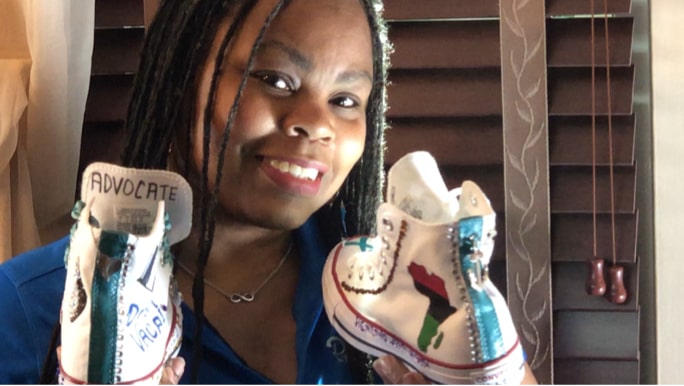 So, when Dawn collapsed in her driveway one day in 2003, it still took some trial and error before she finally got an answer to what was going on. With a neighbor's help, she got an ambulance and was taken to the hospital, where doctors initially thought she must have picked up an illness in Africa that was causing her symptoms.
Ultimately, the order to test for myasthenia gravis came from Dawn's partner, Lisa, who happened to be a physician with privileges at the same hospital. As a medical professional and the one person who had a complete picture of all Dawn's symptoms over time, Lisa knew exactly which stones were still left unturned. "She said, 'The only test I can think of that hasn't been done is for myasthenia gravis,'" Dawn recalled. "And when my lab work came back, a whole rush of people came into my room. Nobody could believe my acetylcholine receptor antibody levels were so high."

Dawn was diagnosed with myasthenia gravis that day—but she wouldn't leave the hospital for over a month. "I had to learn how to walk again," she said. Much of her hospital stay was focused on physical rehabilitation, and fortunately she did regain her mobility. But she found the loss of independence in the meantime to be even more challenging than the rehab work itself. "When you're used to being independent," she said, "it feels almost embarrassing when people suddenly have to do everything for you."

Another challenge during that month was feeling like she couldn't really practice the healthy life habits she once relied upon—like healthier eating and stress reduction—in a hospital environment. There was an unpredictable level of bustle all around her, and she only had so much control over things like meal planning. So, when she was finally able to leave the hospital environment for at-home treatments, it came as a huge relief.

Being in my own space and sitting with what was going on let me really take stock in my spiritual journey.
At home, she was able to focus more on learning her MG triggers and creating an environment that helped her reduce stress. She focused on meditating, eating clean foods and eliminating certain cleaning products. She also focused on mapping out a new plan for her future, knowing that she wouldn't be able to start her previous globe-trotting career right back up where she left off. "Being in my own space and sitting with what was going on let me really take stock in my spiritual journey and what was next for me."
To do that, she turned to an approach she'd been using since childhood: vision boarding, which is a way of visualizing goals using collages cut out from magazines. It's a practice she believes stems from a childhood activity she and her siblings used to do. "For Christmas or birthdays, we'd go through all the store catalogs and pick out what we wanted. And sometimes we would cut them out, just like on a vision board."

After her MG diagnosis, however, vision boarding took on additional meaning in Dawn's life. "It was important to me that I did it when I wasn't feeling my best," Dawn said. During times when her strength and range of motion were limited, it gave her somewhere to redirect her energy. Instead of focusing on the frustration of not being able to turn a housekey in a lock, for instance, she could focus on the physical movements of cutting images out of magazines—even if it took a while.
Ultimately, she used the vision boarding approach as a way to imagine new possibilities for her future, asking herself three questions to guide the exercise:
What do I want to experience?

What do I want to do?
How do I want to give back?
After some reflection, those questions came together in a single idea. "I realized I wanted to do something that focused on wellness and to utilize the training and skills that I have to help other people." The answer? Opening a new business that would allow her to do that—a wellness center.
At first, she said, many of the people in her life thought the idea was a little too ambitious. "My family said, 'Dawn, you need to slow down!' But that was me slowing down. I knew what I wanted to do and how I could make it happen." She also leaned on the unwavering support of her partner, Lisa.
"Even if I have what may seem like a completely random idea that I want to do—a class or a certification or something—she's always right there saying, 'You should do it! That'll be great!'" Dawn said. Things that seemed arbitrary to some often found a place in Dawn's projects. With Lisa's support and encouragement and Dawn's business and holistic skills, the wellness center opened in the summer of 2005.

I love helping people shift their mindset and really focus on what they want to create in their lives.
Today, Dawn has brought her passion for promoting wellness and supporting the MG community together under a single umbrella. In 2020, she founded the MG Holistic Society, a nonprofit organization offering resources, programming and members-only forums for people living with MG. And of course, one of its core programs is a vision boarding workshop. "I love helping people shift their mindset and really focus on what they want to create in their lives," she said.
With the MG Holistic Society, Dawn has continued her ongoing work organizing events for the MG community. Recently, the MG Holistic Society hosted its first MG Awareness Day event in two different states, with challenges and activities to help caregivers better understand what everyday life is like for their loved ones living with MG.

Looking ahead to the near future, Dawn is excited for another event—one that started out as a seemingly wild idea on a vision board and has now become a reality, with the help of a friend who also lives with MG. The MG Holistic Society is hosting an MG event at sea, a 6-day holiday cruise that will double as a fundraiser. "I love traveling to new destinations, so I love being able to share that with other people," she said. "We'll have events during the sea days, and you guessed it…one of them is a vision boarding workshop!"