Cooking healthy food—and enjoying your time in the kitchen—can sometimes be a challenge when you're living with myasthenia gravis (MG). These tips and tricks may help when you're feeling low energy but still craving a home-cooked meal.
For people living with MG, energy levels can be unpredictable. So when mealtime rolls around, you might not always find yourself with the energy to prepare a nutritious meal.
The good news is that you're not alone! Other members of the MG community have been here before, and they've got plenty of tips to help you set yourself up for a good meal—even if you're feeling a little fatigued.
Leah* has always been passionate about cooking, and that didn't change when she was diagnosed with MG seven years ago. She's carried that passion with her as she navigates life with MG—and it took a while to adjust. "It was hard," she said. "I needed to figure out what things I could do without getting myself exhausted." Now, she's built up a wealth of wisdom on cooking and eating well with MG.
Whitney* is a professional chef whose dad, John*, lives with MG—so she knows firsthand how challenging cooking can be for people living with MG. She shared some of the tips she's found to help John with MG-friendly nutrition and meal preparation. She's also put together an exclusive MG-friendly recipe you can download below.
1. Set up your kitchen to be MG friendly
With some planning and organization, you can turn your kitchen into an environment that works best for you and your MG symptoms.
Leah recommends standing on a memory foam anti-fatigue mat during meal prep and moving it around the kitchen with you from task to task.
She also recommends using knives with plastic handles for chopping, rather than heavier stainless steel or wood handles. "Repetitive chopping is lifting," she said. "If you're lifting something, like a weight, it's going to get tiring. It's the same thing with kitchen knives." Similarly, she uses plastic mixing and serving bowls for a lighter lift.

Have everything where you can easily grab it. If it's not organized, it's going to take more time in the kitchen than you want to spend.
Because Whitney's dad John lives with MG, she's got a long list of tips that have helped him with MG-friendly nutrition and meal prepping. And it starts with kitchen organization. She recommends grouping tools that you tend to use together and keeping ingredients like spices within reach while you're cooking. "Have everything where you can easily grab it," she said. "If it's not organized, it's going to take more time in the kitchen than you want to spend."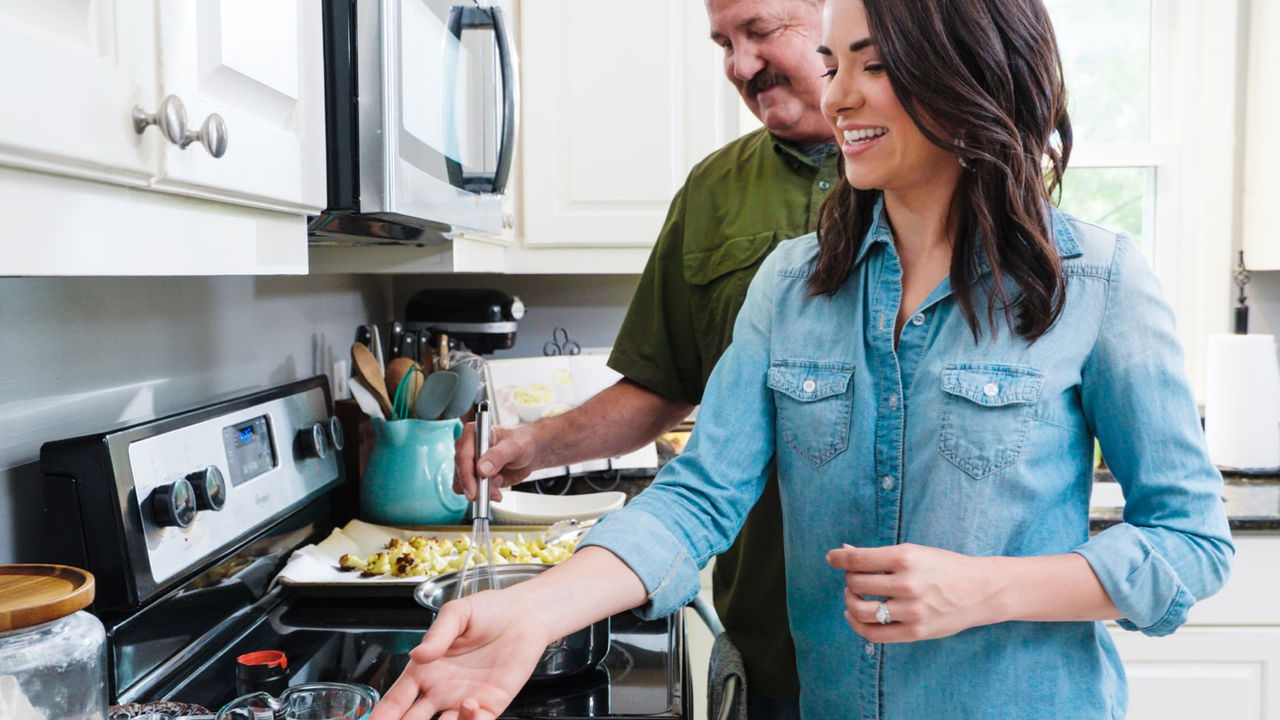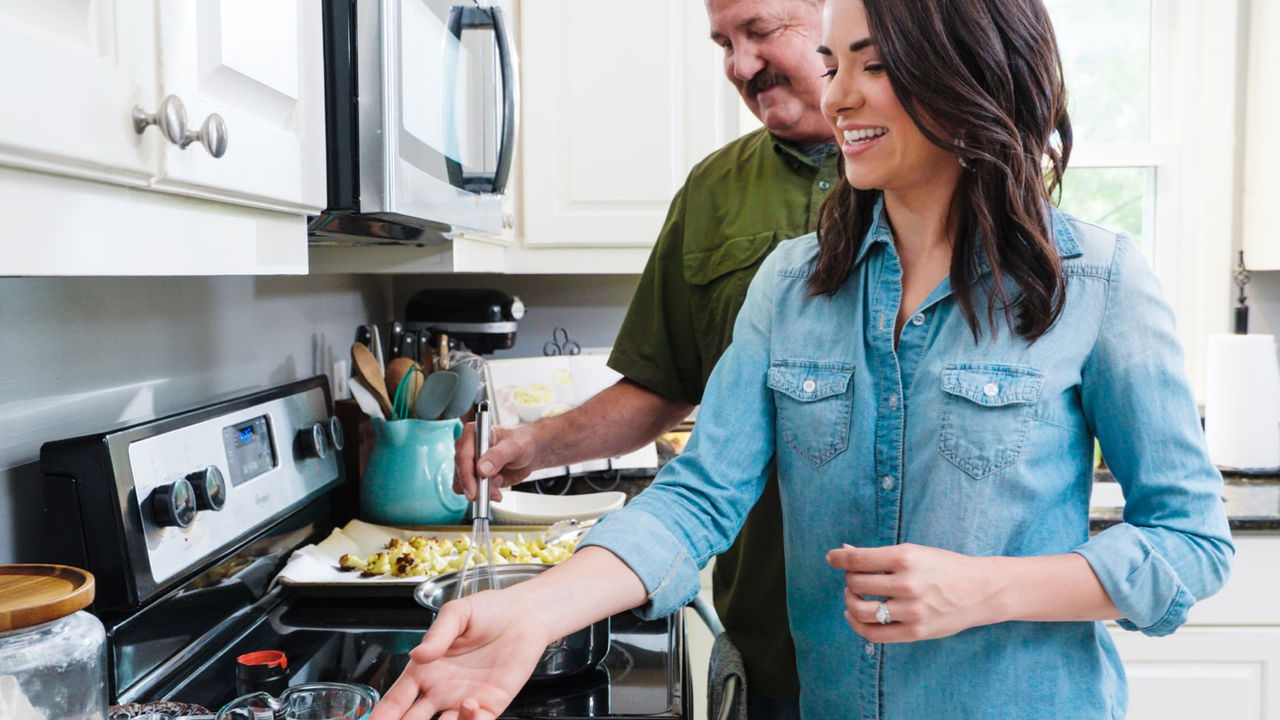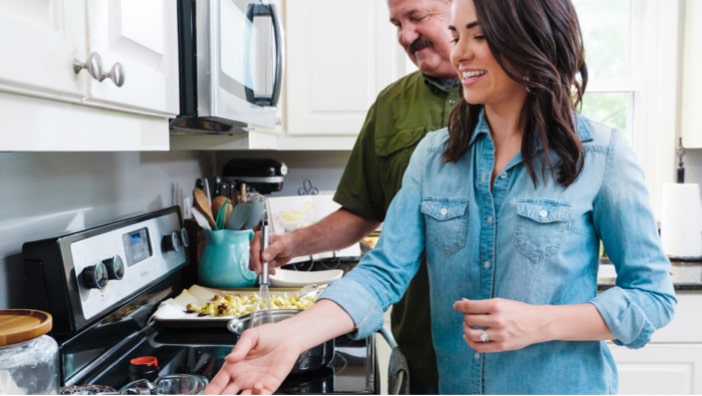 2. Shop for lower-effort alternatives
Having energy-saving alternatives on hand can help you save time and energy when you're cooking—and give you options for the days when you don't have the energy to cook in the first place. Leah and Whitney both have a few favorite shortcuts:
Consider pre-prepped options: Whitney recommends looking for pre-cut veggies, especially those that are more taxing to peel and chop yourself, like butternut squash. Leah prefers pre-made salads with dressing included to cut down on chopping and assembly. Meal kits are another option—and some can be delivered right to your door.
Know your seasonings: Leah relies on all-in-one seasonings as a simple way to add quick flavor to meats and vegetables. "You can cook up ground beef and mix it with anything as long as it's seasoned well," she said. And both Leah and Whitney recommend using garlic powder and onion powder instead of chopping fresh garlic and onions when you're feeling low energy.
Keep staples for simple meals on hand: "I always have sandwich meat in the fridge," Leah said. "It's a fallback for when I'm really tired and don't want to cook." Smoothies are another quick, easy way to make something nutritious—for ideas, check out these MG-friendly smoothie recipes.
Whitney also shared a time-saving tip for chicken: "I suggest using ground chicken in recipes that call for chicken breast," she said. "Form the ground chicken into a patty and season it with salt, pepper and garlic powder." The result is still flavorful and filling, but cooks in much less time.
3. Let gadgets do the work for you
When it comes to kitchen gadgets, there are a wide range of tools that can help cut down on time and effort. They range from small, simple tools to bigger appliances with more functions (be sure to keep heavier items on the countertop or within easy reach to minimize lifting). Here are a few of Whitney's and Leah's favorites.
Egg slicer: Whitney has found that this basic tool has more than one application—it's great for slicing anything soft, like strawberries or mushrooms.
Electric chopper: Smaller and less cumbersome than a food processor, this tool can be a great time-saver for prepping vegetables, nuts and herbs.

Pressure cooker: Leah uses this countertop tool for cooking things like rice and dry beans without having to stand over the stove. Some models also have a slow-cooker function for one-pot soups and stews.

Food processor: For more complex preparations, a food processor with attachments for slicing, shredding, chopping and even mixing dough can help cut down on preparation time and effort.

Are you an adventurer when it comes to new and different cooking techniques? Then you might be interested in one of Whitney's current favorite cooking tools: the sous vide cooker.

Sous vide cooking involves vacuum-sealing meat or vegetables in a bag, immersing the bag in water and using a sous vide device to circulate water at a specified temperature. "It's an easy way to make anything more tender," Whitney said. Even better, she said, it's virtually impossible to overcook food with this method.

4. When you've got the energy, use it!
There's no rule that says you can only chop an onion the minute you plan to cook it. Leah recommends prepping meals one step at a time throughout the day.
"If it's a good day where I have energy, I start thinking about what I want to do for dinner right after breakfast," Leah said. "I take everything that I need from the fridge, wash it and take a break. Then I get up, chop one thing and take a break. I put everything in little bowls as I go so it's ready when it's time to cook. Exactly like a cooking show!"
She pointed out that it can be helpful not to pressure yourself to clean up as you cook. "The old me would have been thinking, 'Oh my gosh, let's wash, let's clean, let's wipe things down,'" she said. Now, she often gives herself a chance to rest before coming back to the cleanup. You can also reduce cleanup with recipes you can make in a single pan, like this pan-seared tuna with rosemary and fresh veggies.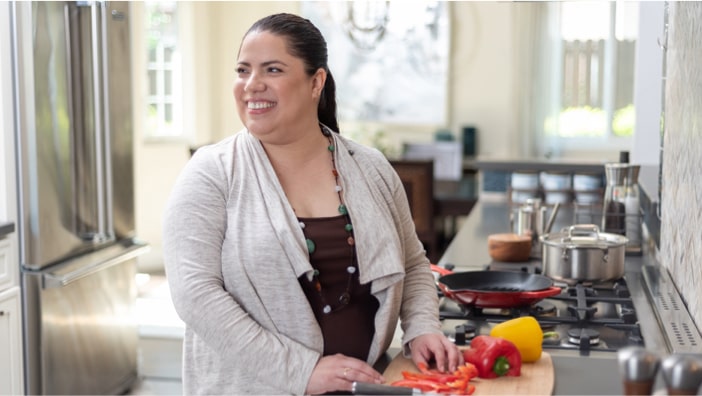 5. Prep for multiple meals at once
With a little planning ahead, you can turn one cooking session into days' worth of meals. "My dad likes to cook a big breakfast," Whitney said. "But that means standing over the stove and cooking every element. You can utilize those ingredients to do an egg casserole or frittata instead and have it throughout the entire week." Or, try these breakfast recipes you can make ahead of time and enjoy for multiple meals.
Whitney also recommends maximizing your prep time by doubling up on a recipe and freezing the extra portions. For instance, this recipe for zesty chicken fajitas is freezer-friendly and easy to double up on. It's a win-win—you'll have something to enjoy today and something for a low-energy day when cooking is last on your list.
6. When you're feeling low energy, give yourself a break
I had to learn how to take a step back and say, 'It's okay if I don't do it today.'
As someone who has loved to cook since long before her MG diagnosis, Leah knows how it feels when MG symptoms force a change of plans. If you're excited to try a new recipe, it can be frustrating to wake up that day and discover you don't have the energy for it.
"We get really self-conscious and frustrated with ourselves about having to change our lifestyle," she said. "I had to learn how to take a step back and say, 'It's okay if I don't do it today.'"
This is also where some of these tips come together: Having easy alternatives and a stockpile of leftovers in the freezer can really help on low-energy days when cooking is far from your mind.
Ready to put these new tips into practice? Try taking our quiz to find a recipe that may be a match for how you're feeling today. If you need to brush up on the basics, check out this step-by-step guide to meal prepping with myasthenia gravis.
Or dive right into Whitney's MG-friendly recipe for brown butter chicken piccata with spaghetti squash, a savory dish that only takes a few steps to make.