Dexter Williams, a running back for the Green Bay Packers, and his mother, Cheryl, tackle myasthenia gravis.
NFL running backs are used to people trying to block their progress. But through strength, perseverance and some help from team members, they can keep moving forward. The same can be said about people with myasthenia gravis (MG), says Green Bay Packers running back Dexter Williams. He and his mother, Cheryl, who lives with MG, are each other's biggest supporters. Together, they work to overcome life challenges.
When Dexter was a teenager, Cheryl was diagnosed with myasthenia gravis while working as a teacher. What began as frequent bouts of exhaustion after work grew into a myasthenic crisis that put her in a three-month coma. Nearly 24 hours before she was to be taken off life support, Cheryl awoke, bringing the family closer than they had ever been before.
Years later, when Dexter experienced a brief setback during his college football career at Notre Dame, Cheryl moved in with him and became his roommate, providing emotional support to help him excel in football and his studies. Today, Cheryl visits Dexter often in Green Bay, continuing to inspire him on the field and in life. Likewise, Dexter supports Cheryl in her day-to-day journey with MG.
Dexter and Cheryl are both proud supporters of the MG community. They recently talked to MG United about how myasthenia gravis has affected them and their outlook on life.
Cheryl, describe your journey to getting diagnosed with MG.
Cheryl: It was a long process to get diagnosed. It eventually got to where I was having bad exacerbations. One time I was sent to three different hospitals in a day, because nobody knew what was going on with me.
I was extremely tired and falling a lot. I was angry with my family and my doctors, because they didn't seem to think anything was wrong with me. At times I even thought I was having some kind of emotional problem. I was afraid and confused. I couldn't go to my children's events, especially Dexter's. I missed everything from his middle school years through high school.
Finally, a neurologist put a name on it. That was exhilarating. I had never heard of myasthenia gravis—I couldn't even say the words.
Dexter, what was that time like for you?
Dexter: Before being diagnosed, my mom didn't have the same energy she once had. The fun moments we would have together were shorter. Many of our activities were cut back. When I was young, my mother was the type to wake up early in the morning. You'd hear music playing and she was singing. But that became something I didn't see anymore because her condition had taken all that away.
As a teenager, I found it extremely tough. It affected me a lot mentally. I was used to having her there every day when I came home from school, after practice. When she was in the hospital, it was tough to deal with. When she was home, I had to start doing a lot of things for her because she needed my help. Our relationship started to change. I became the caregiver. It became tough for her to breathe. And sometimes her muscles would just give out, and she couldn't drive or cook as much.
Today, we support each other—I help her, and she helps me. On days she can't get up, I send her motivational text messages just to give her that spark to start her day on a positive note. We try to speak positively to each other throughout the day. We feed off each other's energy and take the load off one another.
On days she can't get up, I send her motivational text messages just to give her that spark to start her day on a positive note.
How has myasthenia gravis impacted your lives?
Dexter: On the positive side, MG has motivated me to want more and always achieve more. Mom has always pushed me to do more. When I'm playing football, she's always in my mind, telling me to go out and be the best that I can be every day. I'm not just playing this game for me, but for her too.
But myasthenia gravis has hurt me too. A child usually has a mother to do things for him. That role was flipped; I had to do a lot for my mother. I had to grow up fast and become second man of the house because my dad was at work. It was a hard battle.
Cheryl: Myasthenia gravis has caused a lot of hurt and missed moments, but it's also made me a fighter. After being diagnosed, I learned to value my time with my family, my children and myself. I take life moment by moment. I don't take anything for granted, and my children have learned not to take anything for granted.
How would you describe your relationship now?
Dexter: We spend a lot of time together. She's my best friend, my go-to person, and I can tell her everything. She's always been there. She's everything a mother should be.
Cheryl: He's my heart. It's always been that way. Through him, I've learned a lot in life. He's seen me at my worst and at my best. He's a big part of my care. He's compassionate, straightforward, dependable and charismatic. He's a hard worker, just like me. He's going to do great things, but he's respectful of life and appreciates the little moments we have together.
He's there on days that I can't function. He knows what to look for, when to tell me to lay down and rest. Sometimes things can be pretty nerve-wracking for him. But we are tighter than we've ever been. He knows me and I know him. We talk about everything throughout the day, including girls, health and football.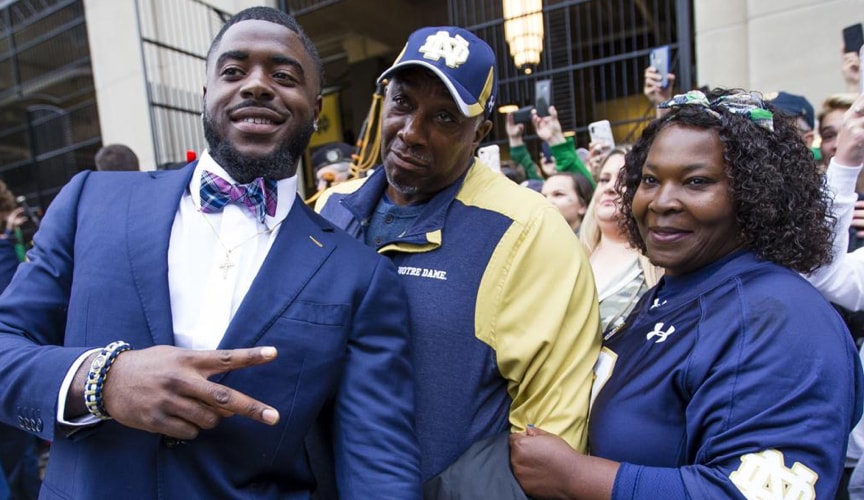 Photo of Dexter Williams and his family. Courtesy of Tribune Photo/Michael Caterina. Originally appeared on NDInsider.com.
MG has caused a lot of hurt and missed moments, but it's also made me a fighter.
What advice would you give to other people living with MG and their supporters?
Cheryl: I tell others that 'I have myasthenia gravis; it doesn't have me.' I explain there are days when I will appear normal and healthy, but I'm not. I can go quickly from having a smile to not being able to smile. I can have slurred speech on a long phone call. I'm sometimes not able to swallow or chew food.
MG can be really complicated to explain. I say to people who aren't feeling well, 'You know your own body and what you're feeling.' I live in this space. Be bold about how you feel. I tell people that they don't get to tell me how I feel. You're allowed to feel what you feel. Myasthenia gravis is real. Don't give up and don't be hard on yourself if you're not feeling well or can't keep an appointment.
Dexter: Myasthenia gravis is so hard to explain because you can't see it. People with myasthenia gravis symptoms can look perfectly fine. They need to tell you how they feel—and you need to listen to them.
Showing support is important, in hard times and good times. It can be a tough, rocky road. But know that you are not alone. There are others dealing with this rare disease. They care about you and understand what you're going through on a daily basis. Keep fighting. Make the best of things and cherish the moments.
You are big supporters of raising awareness of MG. Could you share some resources available to the MG community?
Cheryl: I've been privileged to design myasthenia gravis-themed cleats for the NFL's "My Cause, My Cleats" initiative, which my son will wear to raise awareness. I'm using an iridescent snowflake pattern on the cleats. The snowflakes will appear in light and then disappear, and even change colors. Every case of myasthenia gravis is different. It's handled differently and can change quickly. When you have a crisis, snowflakes pile up. As light as they are, they become heavy.
Besides shoe art, there are sources like the MG United documentary, A Mystery to Me. The film will help people understand that the condition is real and there's support out there. We want people to know it's real. It's real. It's called myasthenia gravis.